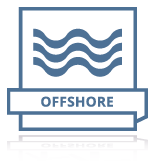 For generation, the inhabitants of Bornholm have lived in close contact with the sea and have in particular served the maritime transport industry and any derived industries.
Owing to its unique location in the middle of the Baltic Ocean, Bornholm is passed by thousands of ships every year. These ships require the supply of various services. In addition, the Baltic Ocean is expected to boom as a result of the erection of wind farms in the future. Bornholm and Rønne Havn A/S are of course expected to be part of these developments.
With the aim of achieving optimum conditions for the offshore industry of the future, a strategic cooperation under the name of "Offshore Center Bornholm" has been established. Initially, strategic cooperation has been entered into between six Bornholm-based companies, each contributing in their own way to serving the offshore industry. Combined, the individual expert qualifications of these companies create a strong alliance and a basis for a strong growth potential.
The aim is to market Bornholm as a service provider of a wide range of maritime services to the large number of ships passing by the island as well as maritime offshore players with special focus on wind turbines and wind energy, thereby making Bornholm a service hub for the large number of planned wind fields in the Baltic Sea.
"Offshore Center Bornholm" currently includes:
BHS Logistics
Bornholms energi og forsyning
Bornholm Airport
Sydhavnens Motorværksted
Bornholms Elektromotor
Knudsker EL
Rønne Revision
Bornfrost Rønne A/S
Rønne Havn A/S
Steenbergs Tegnestue ApS
Bofa
Contact us for more information about Offshore.
For more information about the Port of Roenne's activities in the area, please call or email.

Ulla Kiersgaard
Head of Maritime Services
Tlf.: 5695 0678
Mobil: 3061 0761