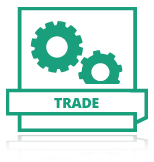 The Harbour of Rønne is a typical commercial harbour and offers all the facilities required to serve the sea-borne trade, including ferries, cruise ships or ships carrying cargo to and from Bornholm.
---
Today, the Port of Roenne serves ferries from three different destinations; Ystad in Sweden, Køge in Denmark and Sassnitz in Germany. In addition, the Port's customers include small and medium-sized transport ships, which are characterised by many calls for the purpose of loading and unloading small cargo loads.
The Port of Roenne is also the second-largest cruise port in Denmark. This serves as proof that the cruise industry has clearly recognized the Port of Roenne and Bornholm as two attractive destinations for cruise tourists. Central focus has been placed on this business area, as the cruise industry is expected to grow and result in larger ships and increased numbers of tourists in the years to come.
In addition to traditional port operations, the Port of Roenne also comprises a commercial area that has attracted a number of businesses with links to the maritime and offshore industries as well as an array of other types of non-maritime businesses, which simply enjoy the vibrant business environment at the Port.
A business magnet and growth engine; the Port of Roenne is a catalyst for growth in Roenne and on the island as a whole.
Rønne Havn A/S
Rønne Havn A/S is a private limited company owned in part by local government, with the Municipality of Bornholm as principal shareholder. The other shareholders are the association of allotment owners and grocers at Bornholm, Bornholms Havne- og Købmandsforening, and the local unit of the Danish Federation of Trade Unions (LO Bornholm).
The Port of Roenne's principal activity is the operation of facilities and port infrastructure involving breakwaters, quays, docks and adjoining land. Activities also include the provision of cranes, warehouses, pilot boats and the like in order to serve ships, stevedores, tenant, etc.
Contact the Port of Roenne Business
For more information about the Port of Roenne's activities in the area, please call or email.

Thomas Bendtsen
CEO
Tlf.: 5695 0678
Mobil: 3061 0763